Monday, March 17, 2014
Funny how Lori works....my partner is in the tax business too, so she has been super busy. But below is a "picture" of what I sent. I hope she likes it.
It should be interesting since both of us will be busy into April. But I know we will prevail!
Hopefully soon things will calm down and we can "interview" each other and blog....
But since we want this to be a surprise....I "picssa"ed my picture. Though I guess you can still see somewhat the materials, but not the colors......
All wrapped and ready to mail!
Stay tuned, I know this is going to be a killer Bead Soup Blog year!!!!!
V
Saturday, March 1, 2014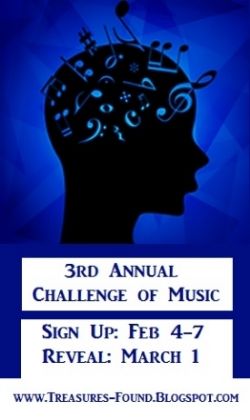 The 3rd Annual Challenge of Music
This year our wonderful "challenge leader" Erin from Treasure Found has challenged to create with music that mean something to us.
For this, the third annual Challenge of Music, I want to take walk down a musical memory lane with you. I want to relive the songs of my past, the ones that connect me to my history and that hold a special place in my heart. For this year's Challenge of Music, I want to focus on our own personal playlists.
1::Pick a year that is significant to your life story.
2::Find a song that was on the top charts for that significant year.
3:: Create!
4::Mark your calendar: Blog Hop on Saturday, March 1st.
5::Sign up to play!
Since I was born in 1956, I consider myself a 60's child....yep, I guess you could say I was kinda of a hippy, though with strict parents...it was a mild form. I do remember when the Beatles came to the US, oh man....swoon....swoon.....then rock really took hold. I remember my first "LP" record. Yep no CD's,ipod or tablets back then. Just the good ole record player. My first record was Pink Floyd's Dark Side of the Moon. Back then the songs were considered corrupt....lol...my favorite was "Money". I would put my head phones on and "belt" out the songs til my Mother would pound on the door and yell at me to stop with the foul language. It had the word "damn" in it....ahhhh so much we 60's children did to shape the word today....the barriers we broke, the limits we pushed, so much we did...
Anyway, my piece, a bracelet, is designed around the title "Dark Side of the Moon" I have had these curved black and white pieces for ever from a challenge I did over 5 years ago and they have been screaming at me lately to use them. As we know the moon has it light side and dark side depending upon which side is facing the sun. So I choose all black and white beads. My dangle charms are moon and the moon and sun side by side. It is a bit big so I do have enough wire to shorten it a bit.
For more wonderful Challenge of Music stories, hop over to:
And see the other participants .
Til next time...."See ya later Alligator...."